The Arcane N ° 20: the judgment in the Tarot de Marseille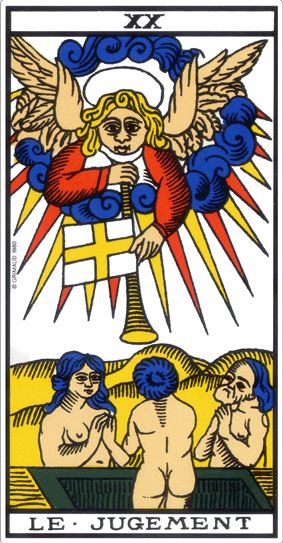 The Arcanum of Judgment heralds news, this card represents a character blowing a trumpet, characters below him imploring him, waiting with fervor. It does not provide an answer that comes from itself, it is a answer that comes from someone else. A situation will come to an end, a person, a messenger will come to give you your answer, but it is up to you to know which question. It is the arcane of renovation, of evolution, in a positive sense because it calls for freedom, for life, at the end of a difficult situation.
The Arcane of Judgment in the game
If this card is drawn right side up: it evokes favorable as well as sudden changes, most often after a complicated period, it conveys values ​​such as joy and independence. The conflicts are resolved, the victory is at the rendezvous. The decisions will be announced unexpectedly by the most modern means.
If this card is drawn upside down (negative): bad news arrives, forced changes, loss of a lawsuit. Life together is not possible, this is not the time to have a child, refusal to accept the truth as it appears in broad daylight. This blade then reveals to be the blade of conflict, fear and the end of illusions.
Judgment and love
Positive: You have undoubtedly experienced trials on the sentimental level, from now on « you will see the end of the tunnel », you will live moments which far exceed your expectations. Favorable period and renewal.
Negative: It is a decisive, pivotal period, you will not be able to avoid what is presented to you and that you have foreseen for a long time. A divorce, a separation will undoubtedly be the solution to your problem, it will be necessary to mourn it, because it will be saving you.
Judgment and Finances
Positive: If you have gone through a difficult period financially, rest assured, you could have nice and pleasant surprises. It is possible that you will experience a sudden change in your career, your situation will improve and you will benefit from it.
Negative: Your expenses may be compulsive, you should now have to be accountable, you thought you were seizing a golden business by launching yourself into an investment said to be advantageous but risky, but it is the opposite. You must, as this arcane invites you to do, manage your budget well.
Judgment and health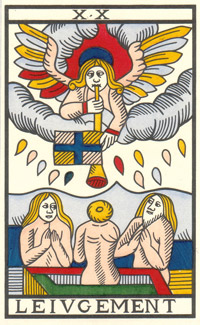 Positive: You have lacked these last months of vitality, fatigue, lack of desire to move forward, all that will change, a period of dynamism, strength and ardor is back, your entourage will be reassured. .
Negative: Your investment in your work is significant, you do not know when you arrive home, how to rest, to take time. If you continue like this your body will sound the alarm, save yourself, get some rest.
Judgment and work
Positive: Many favorable choices and a decisive period await you. You may discover a new interest in a profession, an activity that you have not thought of before. Now is a good time to take exams, to get promoted. Quit your job, for example, to decide to become a manager of a business.
Negative: A choice is presented to you, it weighs on you and destabilizes you, makes you insecure, you have no other choice but to change jobs. It's up to you to act to find the right solution that suits you.
The motto of the Judgment card: change, the unforeseen and action.
For more information, do not hesitate to consult the team of medium indicator Esteban FREDERIC at 0 892 222 842 (0.60 cts / min) or Esteban directly at 09 88 99 75 60.
Tarot of MARSEILLE training
ALL THE BLADES OF TAROT DE MARSEILLE IN TAROLOGY